20th December 2019
Snowboard essentials: snowboard socks
If you don't get your equipment right then life can be difficult when you're up on the mountain. Over the years, people have turned up for lessons without gloves, goggles, helmets and even once, skis instead of a snowboard!
Equipment and clothing designed for snowboarders and the mountain environment helps to keep you warm, comfortable and dry.
Snowboard equipment is one of the most discussed topics in the REAL Snowboarding office so we're starting a new blog series to share our expertise with you.
First up: socks.
Snowboard socks
Forget what your board looks like, what shape it is, or even what colour your jacket is. For us, socks are the most important bit of kit for staying happy when you're snowboarding all day long.
The right pair of socks keep your feet warm and can also help with the fit of your boots.
Do you notice we said 'pair of socks'? If there's one piece of advice we want you to remember, it's to never double up on socks! It might seem like a good idea but can actually restrict circulation to your toes making them feel cold, and cause friction which can lead to pressure points or blisters.
Not fun.
Technology has advanced a lot in the past few years. You can now get socks that provide support and cushioning to specific areas of your feet. Take the time to try different pairs and find the ones that are the perfect fit for you. The material is important too. Just like base layers, cotton is a bad idea. The best snowboarding socks are designed to wick moisture away from your skin and keep your toes cosy all day long.
We have to put our hands up here and admit that when we started snowboarding we didn't really pay much attention to our socks. Turns out we all had some kind of issue with our feet or boots that disappeared once we started using socks that had a bit more to them than 3 for 2 at Costco.
The REAL sock of choice
For the REAL Snowboarding team, Stance Socks are our sock of choice and we've been wearing them for years. Stance Socks hold your heel, provide arch support and cushion your shins. They are the most comfortable socks to have ever existed, fact.
As well as being comfy, Stance Socks are some of the most stylish out there. Which, fair enough, isn't as important as fit and comfort, but it comes a very close third, especially when you're in the boot room or hopping in the car at the end of the day!
The style of choice in the REAL office this winter is the Launch Pad sock. If ever a sock could summarise REAL, this is it!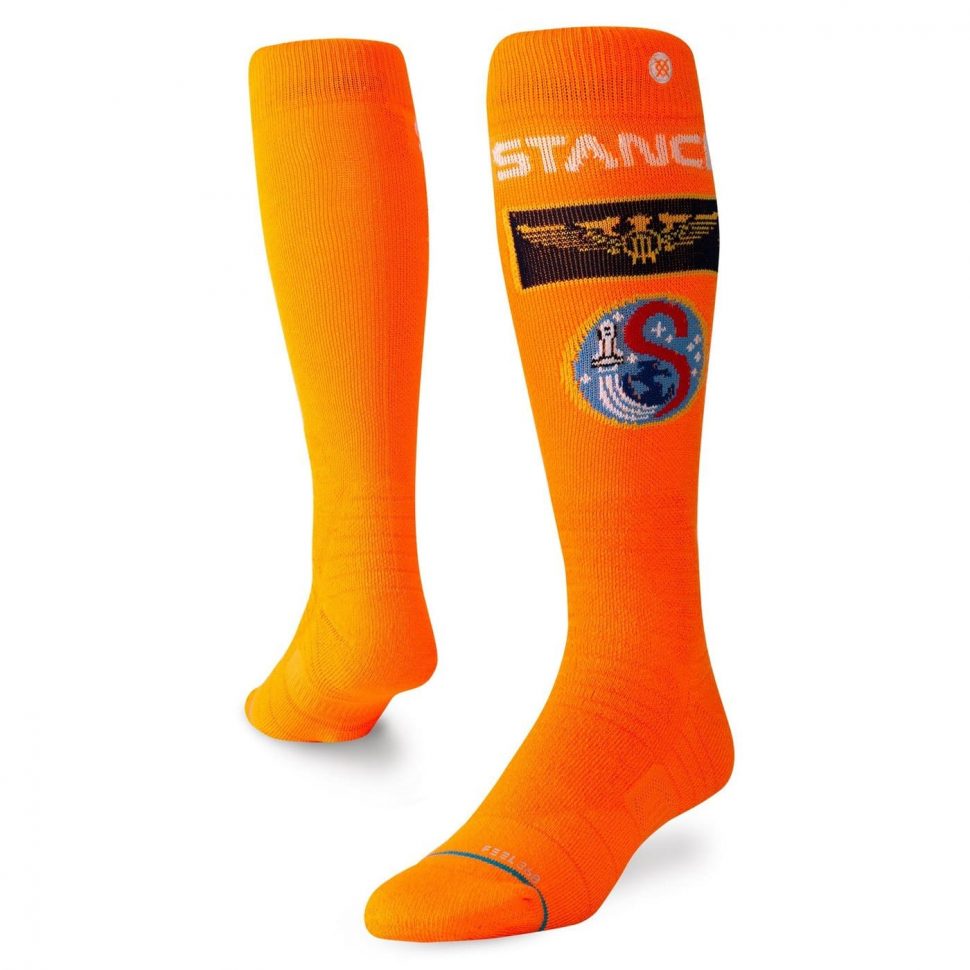 Not only is it bright orange but, to us, the rocket symbolises the core freestyle element of our snowboarding school. REAL was founded by two freestyle snowboarders, Barry Parker and Dave Crozier so having a rocket on our socks helps us to remember that we should always send it!
At REAL Snowboarding part of our role as instructors and coaches is to inspire others within snowboarding. We're always progressing our ability and developing our style and it's great when we find friends and partners to work with that share the same ethos. The team at Stance Socks are committed to innovation, somehow making our snowboarding socks better every winter.
Socks aren't just for Christmas
Remember: take care of your socks and they will take care of you.
A decent pair of snowboarding socks may be more expensive than Costco but they will last longer and you will get so much more out of them. Stop and think before buying several pairs of cheap socks that will end up in the bin and landfill before long.
Wash at a low temperature and avoid putting them in a dryer as this can destroy the fibres that keep that perfect fit.
What next?
It has to be boots! Next time we'll talk about what to look for in snowboard boots. We'll also share our recommendations and details of what the REAL team are wearing this season. Follow us on Instagram to find out when it's out.
About Stance Socks
Stance Socks' snowboard specific collection is unbeatable in style and quality. Check them out, and their other collections here:
https://stance.eu.com/